White Country Finish

An easy choice to create a comfortable style. This country look shows off the tongue and groove effect of the kitchen in the perfect setting. Appliance fascias are available for integrated appliances.
All LIFESTYLE kitchens are available with a wide selection of handle options and accessories.
Glass Door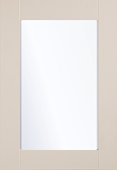 Glazed doors add a third dimension to your kitchen. Each range has it's own design.